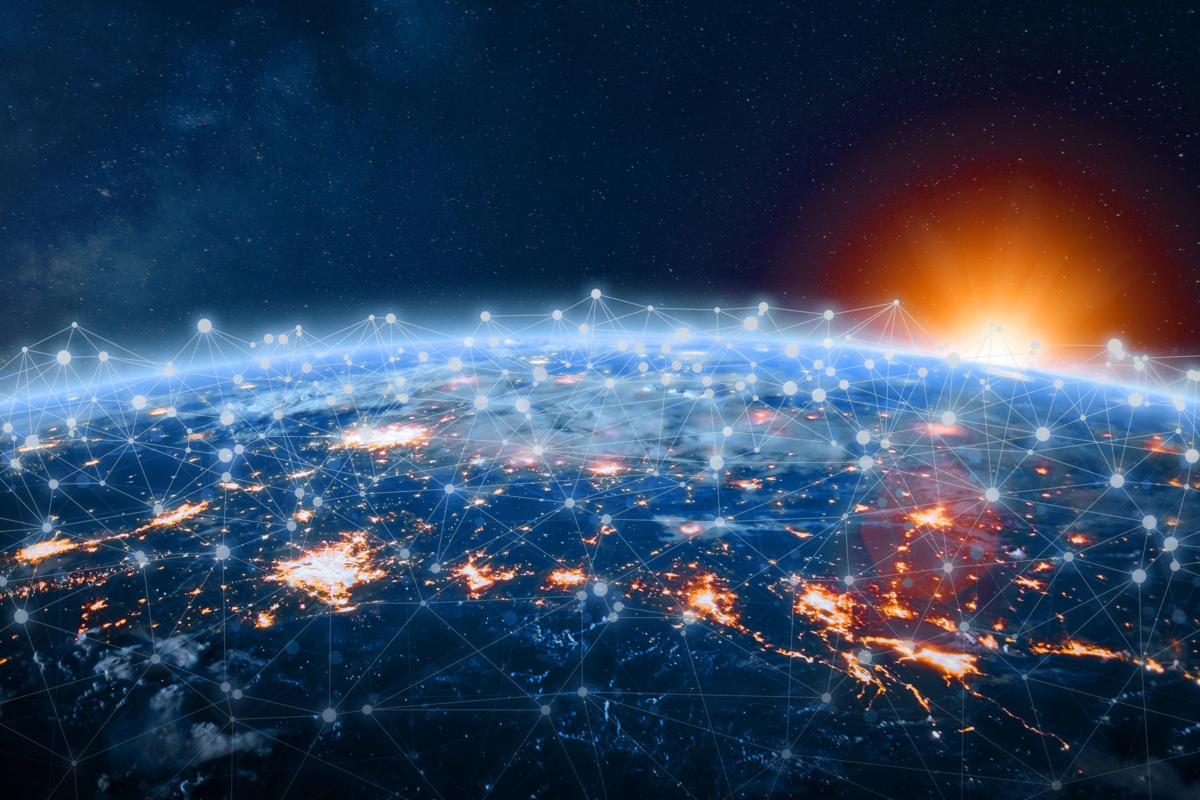 Under this enticing title, it is obvious that the answer is not "yes" or "no". Knowing that the fight has been raging for several years between the Lora, Sigfox and other NB-IOT or LTE-M but that the mass IOT market is not really up to the estimates. We also feel that some of these players are running out of steam and now claiming metrics far from the main indicator that could demonstrate the market and their position: the number of subscriptions for objects commonly connected to their network.
But forecasters continue to announce an incredible market of tens of billions of connected objects in the next 10 years. So, all those who could have a suitable communication technology position themselves and try to occupy the media spot at the earliest, often before even having a real answer to the stakes of each use case.
Whatever the case, at NEXT4, our vision of the IOT is quite clear and it seems to bring together many of our colleagues and clients:
A connected object must be a "cheap" object, with a "cheap" subscription whose autonomy is long so that the maintenance is "cheap".
However, it remains to define "CHEAP":
If I lose 5 000 000 € of merchandise each year and that I put 5000 sensors up to 200 € (subscription included 1 year and for 1 year of autonomy) to overcome this loss: it is relatively cheap!
You see dear partner, no need to promote the IOT to 5 € for a large number of use cases …
You are only slowing down the decisions of the order givers who only think about waiting for a lower rate than can be achieved to date.
For NEXT4, the treated case of tracking containerized goods shows an obvious profitability* for almost any container whose market value exceeds 50 000 € (a t-shirt container for example).
*calculated price of the NEXT4 offer per trip: about 30 €
At this price, the real subject for NEXT4 was to offer its customers the widest possible international coverage.
It is for these reasons and strength of our experiences on the LPWAN networks, that we decided to bet on the cellular network in its energy saving version: the LTE-M.
Some will say that the LTE-M is not deployed anywhere in the world and we will tell them that the deployment is relatively fast but currently and for 30% less battery life, our trackers automatically switch to 2G.
Our choice allows us to offer the only international geolocation solution with a lifespan of about 2 years and a "real" coverage.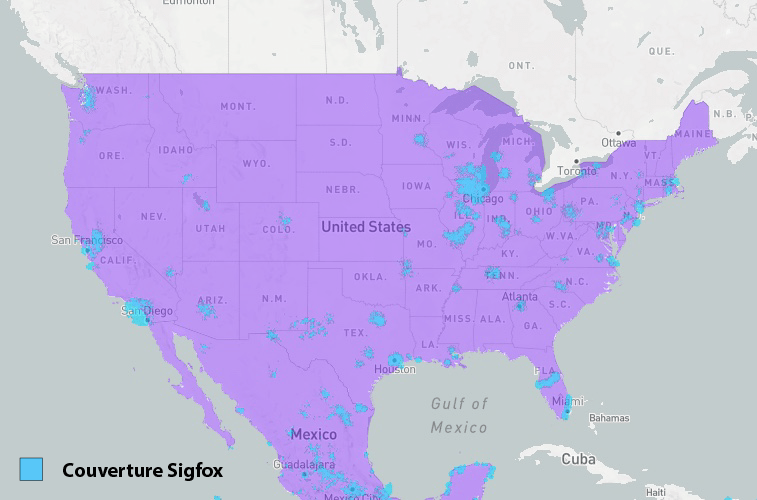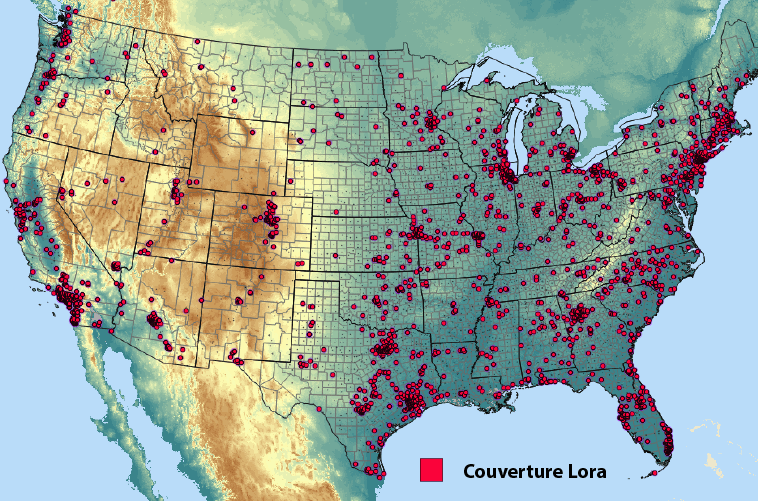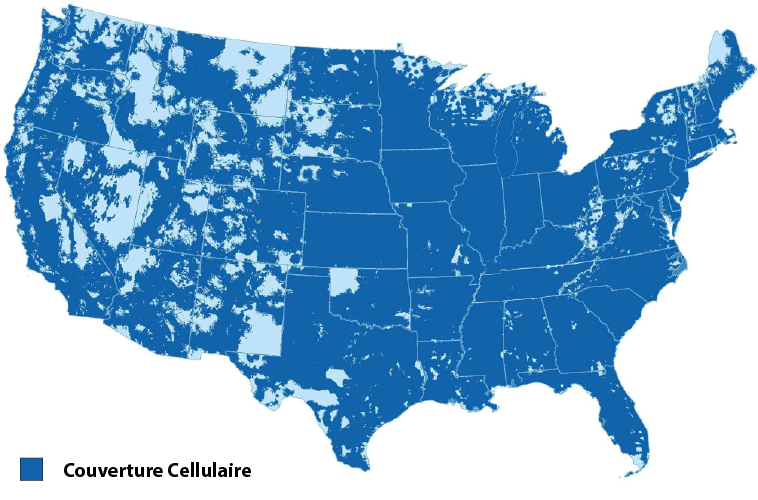 But, as this blue USA map shows, although dense, there are white areas in the cellular network and it is for this reason that we have been led since 2018 to study the emerging solutions of IOT by satellite.
The announcements of satellites for the IOT "rain" since a few months and we understand why:
Indeed, a single launch of a few dozen satellites not bigger than shoeboxes (nano satellite or Cubesat), could allow an instantaneous coverage of the globe where all terrestrial actors must buy or rent locations (high points) and deploy base stations.
This is THE solution. Finally, that's what we try to make us believe …
First of all, it is important to know that these small, low-cost satellites are sent into LEO (Low Earth Orbit), which is defined as less than 2,000 km from Earth.
In this case, all the initiatives we have identified include launches that are about 600 km from the earth. This information is relatively important because, for low-consumption objects, touching a satellite 600 km is relatively complicated. It is sometimes difficult to touch an antenna of a terrestrial network a few hundred meters when one finds oneself behind an athermic window or (as the contract of certain operators specifies it) when the atmospheric conditions are not "ideal" …
This allows us to address a first limit to these proposals for new networks: the use cases.
We quickly perceive that a smart meter 6 m underground, will not be able to communicate with these nano or cubesat …
So the satellite IOT would be more for open sky or "stuck to the door"
The uncertainties of these new connectivity offerings are important to date for all IOT Satellites technologies:
The real commercial launch: Between 2020 and 2023 for all the players but with what level of services during the launch?
The price of communication modules: What bet will suppliers because modules above 20 € (price of a module for the cell) would be a dealbreaker!
The price of the subscription is also in question because some of these companies have short-term financing and therefore a need for rapid profitability … Without wagering on a very large volume quickly, prices will be mathematically too high
Energy consumption: biggest unknown for most solutions. Even those claiming to ship Sigfox or Lora little consumer.
Because there, it will be necessary that the equipment can listen to the satellite in order to know when to emit and on which frequency …