Seamless

tracking
for all your shipments
98%
of the world's biggest freight ports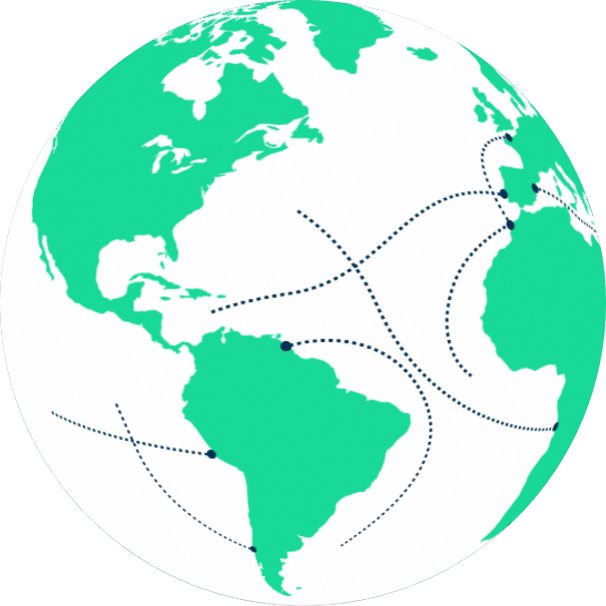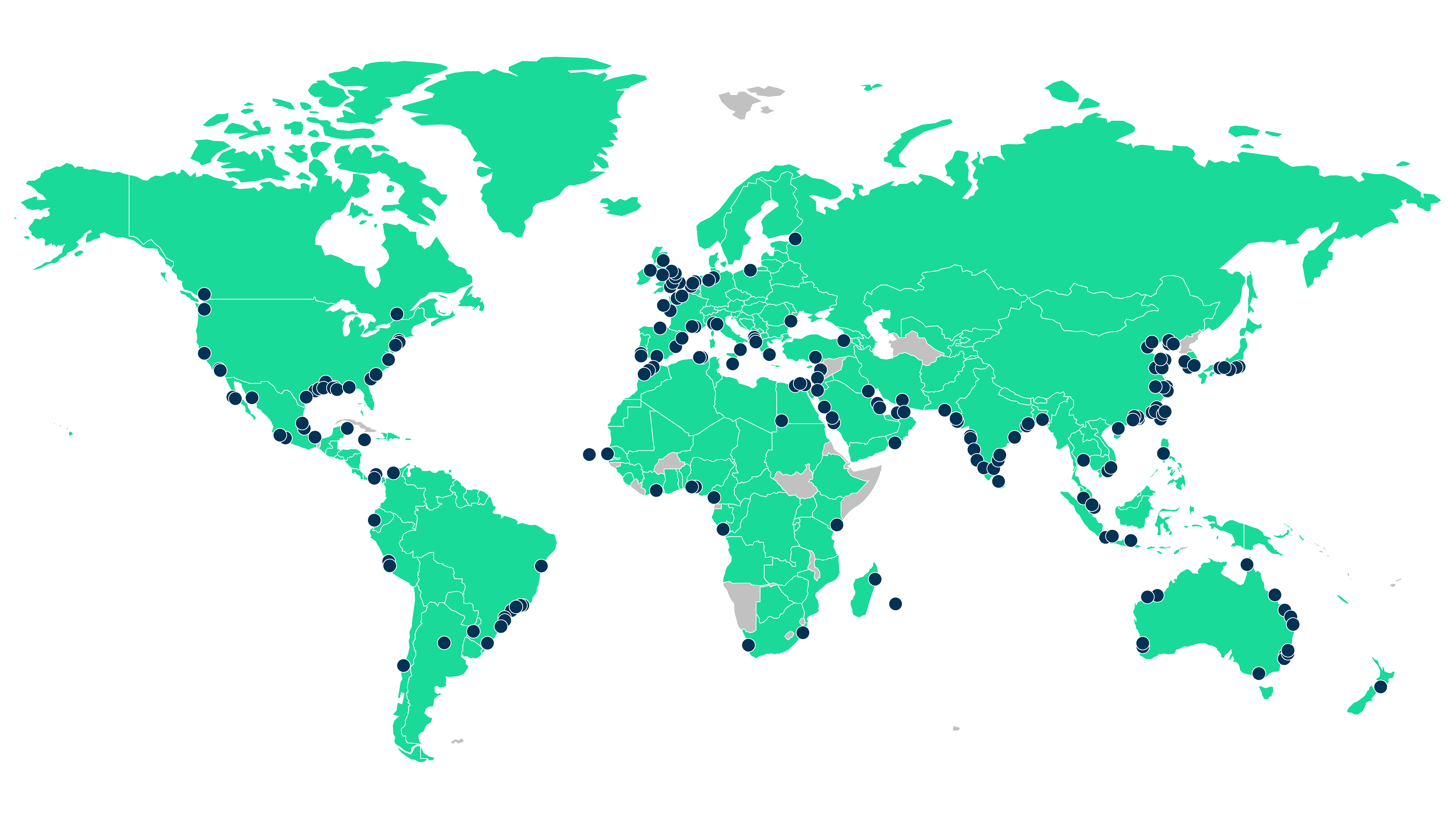 Countries included in our offer
Afghanistan, Albania, Algeria, Angola, Anguilla Island, Antigua, Argentina, Armenia, Aruba, Australia, Austria, Azerbaijan (Rep of), Bahamas, Bahrain, Bangladesh, Barbados, Belarus (Rep of), Belgium, Benin, Bermuda, Bolivia, Bosnia and Herzegovina, Botswana, Brazil, British Virgin Island, Brunei Darussalam, Bulgaria, Burundi, Cambodia, Cameroon, Canada, Cape Verde, Cayman Islands, Central African Republic, Chad, Chile, China, Colombia, Congo (Democratic Rep of), Congo (Rep of), Costa Rica, Croatia, Curacao, Cyprus, Czech (Rep of), Denmark, Dominica Island, Dominican Republic, Ecuador, Egypt, El Salvador, Estonia, Ethiopia, Faroe Islands, Fiji, Finland, France, French Guyana, French West Indies, Gabon, Gambia, Georgia, Germany, Ghana, Gibraltar, Greece, Greenland, Grenada Island, Guam, Guatemala, Guernsey, Guinea, Guyana, Haiti, Honduras, Hong Kong, Hungary, Iceland, India, Indonesia, Iran, Iraq, Ireland, Isle of Man, Israel, Italy, Ivory Coast, Jamaica, Japan, Jersey, Jordan, Kazakhstan, Kenya, Kosovo (Rep of), Kuwait, Kyrgyzstan, Laos, Latvia, Libya, Liechtenstein, Lithuania, Luxembourg, Macao, Macedonia (Rep of), Madagascar, Malaysia, Maldives, Mali, Malta, Martinique, Mauritania, Mauritius, Mexico, Moldova (Rep of), Monaco, Mongolia, Montenegro, Montserrat Island, Morocco, Mozambique, Myanmar, Nepal, Netherlands, New Zealand, Nicaragua, Niger, Nigeria, Norway, Oman (Sultanate of), Pakistan, Palestine, Panama, Papua New Guinea, Paraguay, Peru, Philippines, Poland, Portugal, Puerto Rico, Qatar, Reunion, Romania, Russia, Rwanda, Sao Tome and Principe, Saudi Arabia, Senegal, Serbia, Seychelles, Sierra Leone, Singapore, Slovakia, Slovenia, South Africa, South Korea, Spain, Sri Lanka, St Kitts Island, St Lucia Island, St. Maarten, St Vincent Island, Sudan, Suriname, Sweden, Switzerland, Taiwan, Tajikistan, Tanzania, Thailand, Togo, Tonga, Trinidad and Tobago, Tunisia, Turkey, Turks Island, Ukraine, Uganda, United Arab Emirates, United Kingdom, Uruguay, USA, Uzbekistan, Vanuatu, Venezuela, Vietnam, Western Sahara, Yemen, Zambia, Zimbabwe.
On demand : Andorra, Bonaire, Bhutan, Lebanon, New Caledonia.
Ports included in our coverage
Albania : Durrës, Sarandë, Vlorë
Algeria : Skikda, Bejaia
Argentina : San Lorenzo
Australia : Abbot Point, Brisbane, Bunbury, Dampier, Fremantle Ports, Gladstone, Hay Point, Melbourne, Newcastle, Port Hedland, Port Kembla, Sydney, Sydney Ports, Weipa
Bahrain : Mina Sulman
Bangladesh : Chittagong
Belgium : Antwerp, Zeebrugge
Brazil : Angra dos Reis, Aratu, Itaquai, Itaqui, Paranagua, Rio de Janeiro, Rio Grande, San Francisco do Sul, Santos, Tubarāo
Cameroon : Douala
Canada : Metro Vancouver, Montreal, Vancouver
Cape Verde : Praia Harbor
Chile : Talcahuano
China : Dalian, Dandong, Dongguan, Fuzhou, Guangzhou, Haikou, Lianyungang, Nanjing, Ningbo-Zhoushan, Qingdao, Quanzhou, Rizhao, Shanghai, Shenzhen, Taicang, Taichung, Tangshan, Tianjin, Xiamen, Yantai, Yingkou, Zhuhai
Colombia : Cartagena 
Ecuador : Guayaquil 
Egypt :  Alexandria, Damietta, Port Said, Suez
France : Fos-Sur-Mer, Le Havre, Marseille, Pointe des Galets, Saint-Nazaire, Rouen
Germany :  Bremen, Hamburg
Greece : Piraeus
Hong Kong : Hong Kong
India : Chennai, Ennore, Jawaharlal Nehru, Kandla, Kochi, Kolkata Port Trust, Mormugao, Mumbai, Mundra, New Mangaluru, Paradip Port Trust, V. O. Chidambaranar, Visakhapatnam
Indonesia : Cirebon, Tanjung Perak, Tanjung Priok
Iran : Bandar Abbas, Khorfakkan 
Israel : Ashdod, Haifa
Italy : Genoa, Gioia Tauro, La Spezia
Ivory Coast : Abidjan
Jamaica : Kingston
Japan : Kobe, Nagoya, Osaka, Tokyo, Yokohama
Jordan : Aqaba
Kenya : Mombasa
Kuwait : Shuaiba
Madagascar : Toamasina
Malaysia : Port Klang, Tanjung Pelepas 
Malta : Marsaxlokk
Mauritius : Port-Louis
Mexico : Altamira, Coatzacoalcos, Guaymas, Guerrero Negro, Isla de Cedros, Lazaro Cardenas, Manzanillo, Punta Venado, Veracruz
Morocco :  Casablanca, Jorf Lasfar, Tanger Med
Netherlands : Rotterdam
New Zealand : Wellington
Nigeria : Lagos, Tin Can Island
Oman : Salalah
Pakistan : Karachi 
Panama : Colon, Balboa
Peru : Callao, Pisco
Philippines : Manila
Poland : Gdansk
Portugal : Sines
Republic of Congo : Pointe-Noire
Romania : Constanța
Russia : St-Petersburg 
Saudi Arabia : Dammam, Jeddah, King Abdullah, Yanbu
Senegal : Dakar
Singapore : Singapore
South Africa : Durban, Saldanha Bay
Spain : Algeciras, Barcelona, San Vicente Barquera, Valencia
Sri Lanka : Colombo
Taiwan : Kaohsiung, Taipei
Thailand : Laem Chabang 
Turkey : Ambarli, Mersin
United Arab Emirates : Dubai 
United Kingdom : Belfast, Felixstowe, Forth Ports, Grimsby, Hartlepool, Immingham, Liverpool/Mersey-side, London, Norfolk, Southampton, Tees
United States : Baton Rouge, Beaumont, Charleston, Corpus Christi, Houston, Lake Charles, Long Beach, Los Angeles, Mobile, New Jersey, New Orleans, New York, NW Seaport Alliance, Oakland, PANYNJ, Plaquemines, Savannah, South Louisiana
Vietnam : Cai Mep, Ho Chi Minh City 
Discover how NEXT4 can help you gain visibility and optimise your processes.